Blog
Introducing our new craft-inspired stock collection 'Macrame'
We are delighted to announce the creation of a new craft-inspired collection of carpets. The Macrame Collection takes its influence from the ancient Arabic art of knotting threads in a geometric pattern.
Our design team have been tying themselves in knots creating this exciting new collection of heavy commercial contract quality wool-rich carpets which are available in eight exciting colourways and manufactured at 4 metres wide. The macrame pattern has a three-dimensional feel and will bring an element of rustic craft to interiors for the hospitality, hotel and leisure sectors.
Why Macrame?
We chose the name Macrame because of its close links to "craft", which was its working title throughout the early concept stages. As we explored and developed the pattern we concluded that Macrame was a much more appropriate name than Craft as it describes the pattern perfectly.
Incidentally, the origin of the name macrame is up for debate. Some believe 3rd-century Arabic word for fringe "migramah". Others think it derives from the Turkish word "makrama", meaning napkin or towel as loose threads from pieces of woven fabrics would be woven together. What we do know is that in the 13th century, Arab weavers wove macramé and it then spread to Europe with the Moors bringing macramé to Spain.
An example of the 13th century Arabic macrame is shown in the image below.  The Turkish towels show simple knotted threads at the edges of fabrics to tie off the loose ends.
The new Macrame Collection
This brand new stock collection is manufactured with a mixture of natural yarns and dyed velvet. The natural yarn contains no colour dyes and the shades are achieved by blending different coloured sheep's fleeces together to obtain the colour. Macrame is available in eight versatile colourways to provide an inspired choice for the interior designer.
Azure – as blue as the ocean or as clear as the sky. This soft deep colourway is combined with natural shades of grey and a hint black (below).
Inca – is inspired by the Inca's tribal colours who were highly skilled in many crafts including weaving and embroidery. Black, white and yellow colours came from natural dyes which were extracted from plants, minerals, insects, and molluscs (see main image).
Sienna – a naturally occurring mineral and one of the first pigments to be used by humans. This warm earthy tone, originally known as terra rossa, is combined with off white and oatmeal to create a fresh but warm interior.
Esker – takes its inspiration from the Eskers of Europe and North America. Combining rich oatmeal with grey undertones emulating the beautiful colours of textured ridges, with a deep blue tone representing the shallow glacial melt water streams.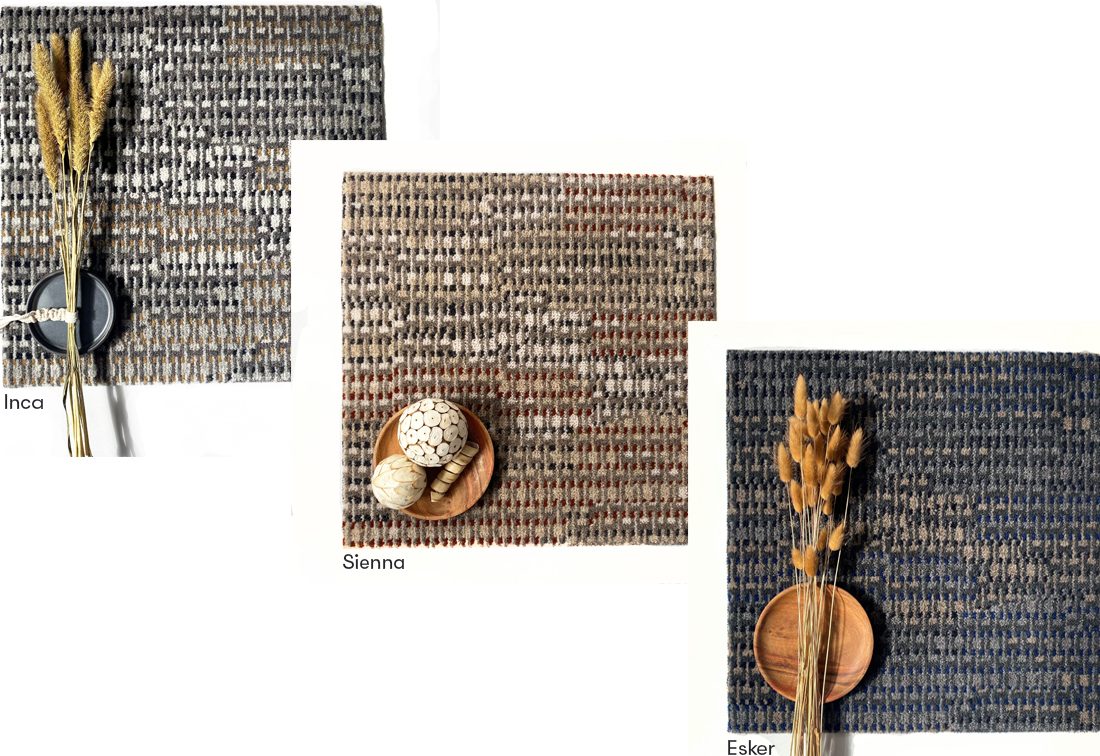 Auburn – envisage crisp sunburnt leaves and spiced up neutrals, this nature-inspired colourway has highlights of copper and black which is sure to create a deep sumptuous interior.
Verona – reminiscent of warmer climates this colourway reflects the rocky terrain of Italy's coastal areas together with the cool shades of the Adriatic sea.
Carob – this beautifully rich colourway draws inspiration from the carob pod, grown on evergreen trees native to Mediterranean areas. Neutral greys with brown undertones create this fantastic colourway, one that can work with both cool and warm colour schemes. (See room shot above)
Cassis – historically regal and instantly recognisable, this colourway draws its inspiration from the rich tones of nature's fruits and berries. Working seamlessly with neutral and vibrant shades alike. (See below)
What exactly is macrame?
Macrame is a form of fibre art which was particularly popular in both Victorian times and the 1970's – it is now enjoying a revival. In essence, it is a course lace or fringe made by knotting threads or chords together in a geometric pattern. The key knot used is a reef knot and historically, it was long crafted by sailors in elaborate or ornamental patterns to cover knife handles, bottles and various parts of ships.
Today, macrame is very much on-trend  and can be made from cotton twine, linen, hemp, jute, leather or yarn. It is used to make everything from wall hangings and plant hangers to clothing with the inclusion of glass or wooden beads and dyed threads.
An interesting twist
Macrame can be wonderfully simple. Macrame can be incredibly complex. That's the beauty of the craft. Different coloured fibres can also be twisted together and a popular one is a 3-ply chord. It's no coincidence that every colourway in our Macrame Collection uses a 3-ply wool-rich yarn.
Material Source Studio
Macrame will be featured at Material Source Studio in Manchester until November. Material Source Studio is an inspirational hub for architects, designers and specifiers to explore products from over 30 of the world's leading built environmental brands. Located on Federation Street, approximately 1 minute walk from Victoria train station.
Macrame is available off the shelf now. If you would like a sample for your mood board, please contact your area representative or our sales office on 01706 846375 alternatively email customer.services@newheycarpets.co.uk.